*NEW* Waffle Chocolate Pop
*NEW* Cheesecake Gelato Stick
New and creative – cheesecake gelato on a stick! So easy to enjoy when you are on the move.
XTC Gelato has introduced four cheesecake gelato sticks with classic flavours: Blueberry, Raspberry, Mango & Peach. Layered with real fruit, homemade cheesecake gelato and a biscuit base – it's truly delicious.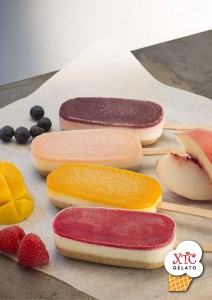 Spring is finally here! It's time to enjoy outdoors, hang out with family and friends and also time to enjoy gelato!
We have more than 15 seasonal flavours on offer this spring.  Here are some of the highlights. Pabana Tropicana (Centre front then going clockwise), Hojicha, Raspberry, Basil & Pepper, Real Pineapple Bun, Mango Sticky Rice Trio